California is one of the most tourist destinations in the USA. Here every tourist gets the land of Orange, San Jose, Museum, Monument, and Santa Cruz. California visited about 70 million people in various locations in 2020. It's tricky to find place to satisfy your needs. So, what the thing would you do? Don't worry; I'm going to pick the 44 best places to visit in California that you shouldn't miss.
Check out the amazing 44 locations and recommendations on its pros and cons, so you can quickly determine whether or not you should be on the spot. So, let's get started without hesitation.
Best places to visit in California
44. Pacific Coast Highway
Sometimes tourists want to take a long drive with their loved ones. Well, the road-trip is one of a lot of fun. This Pacific Coast Highway has added extra fun due to its stunning view and location. The scenery you see along the way through this memorial of the stars, which is nothing short of a memorial. Besides the other views, you'll even see the water, which looks amazing. Of course, dreaming of a road trip with a wonderful location, you can take a trip with this fantastic location to refresh your mind.
43.

Redwood National and State parks
Redwood National and State Parks is located in northern California. It's a beautiful location, made up of a number of different parks. It's a wild lover's spot and it's camping for a weekend. You can discover the towering of redwood trees in this forest, which is up to 300 feet long in the sky. The park has an ancient Jurassic age that gives you an unforgettable feeling. So, every time you get to this place, you can enjoy a quiet and peach. So, to refresh your mind for a while, you're sure to visit this site.
42. Mono Lake
This is another lake in California and is mostly known as a salt water body that does not hold any fish due to the slat feature. But this is the place that brought extra fun and pleasure to the hot summer day. The whole location of this place looks different, which comes with a range of Tufa rock formations, making it easy to see and take a great trip to this place. You will also enjoy kayaking, hiking, and several other related tours. It's also situated on the slopes of the Sierra Mountain, and it's not that far from Yosemite 's incredible spot. So, you can visit both places with little cost of money and resources.
41. Laguna Beach
It's a perfect place to take a fresh breath and avoid stress. It's a small town that's the most good learning experience in California. The place is still a small crowded place, so tourists can take full advantage of this place. For its splendid beauty, the Crescent Bay and the main beach are mostly popular. There are also some wonderful places in this small town.
If you're a lover of the region and want to camp in a locality of the region, you can certainly visit this area — the Head of Crystal Cove State Park for the more untamed seashore. You will visit this place to see wildflowers, fauna and wildflowers.
40. Death Valley
This is one of the most popular tourist attractions in California. In reality, this place comes with a lot of fun and a great view. The landscape doesn't hold anything back in an entrancing and breathtaking presence. The hill burns absolutely to heat the light. The most famous spot in this landscape is the Zabriskie point, which allows you to overlook the Badwater Basin. There is also the Mesquite Sand Dunces, which gives a spectacular geographical view. The Death Valley is a magical place when you visit its key stage. I think it's also a fascinating location in California, which gives you great fun and pleasure.
39. Ancient Bristlecone Pine Forest
If you're searching for an old fauna, you can surely discover an old fauna in this area. It includes ancient fauna not only in California, but also in the United States. Among this natural beauty, the Patriarch tree is one of the largest trees in the world. But I suggest that you visit this place in the winter because of the extremely hot weather.
On the other side, you will enjoy a picnic, hiking , camping and an adventure. Imagine, you'll ever see the old fauna that's been around for 400 years. I think it's a perfect place to look at ancient fauna.
38. Burney Falls
Burney 's fall is the glory of California. The waterfall at this location is 129 feet long, which releases a lot of water into the equally lovely Lake Britton. The water is really cold, so you can swim with this clean and warm water. The place has a memorial state park; that is, the place where they fell is called their home. The waterfall also reduces the discomfort of the mind and massages the body.
Go camping, climbing, and looking out at the waterfall, this location is definitely one of the best spots ever. Burney Falls look like paradise, and you can take a lot of photos that look like paradise, too. I think this is a full tourist spot to visit.
37. Cypress Tree Tunnel
This is the spot I've never missed. I'm going to visit this place, five times. The place is still cool and looks at the original beauty — the place in Point Reyes. The cypress trees are just standing over the shoulders, creating an ethical and whimsical piece of scenery that looks like a fairy tale. This place is not common in California, but is also popular in the United States as a whole.
You will enjoy the beautiful view as the sun shines through the forest. Whatever the hue of this place you've never missed. Overall, it's a lovely place for tree lovers and every age of people. You can visit this place any weather you need to look for an incredible view.
36. Glory Hole
Although it's not a terrific place like the above locations, you can also visit this place for incredible fun. It is part of Berryessa, which is situated in the country of Napa. This spot looks like an alien spot that you might picture in your dream or in a few moves. Besides the pit, you can take your camping, hiking, and have an adventure with this beautiful place.
You may enjoy swimming with this spot, but make sure you keep a distance from the pit. A lot of incidents happen before time. Despite this problem, this place also provides a great view of having fun.
35. Ojai Valley
Like Santa Barbara and Laguna Beach, this is also a small and beautiful town that offers peach in mind, comfort and rusticity, making this landscape ideal for a visit to California. You'll discover a variety of farmers ' markets that help you get new and non-chemical produce. It's the perfect place for hiking and camping with family and friends.
It would help if you didn't miss the sunniest, because it's one of the best scenarios in this place. It is lighting the mountain. There are a lot of things you can do with this place. So, for a relaxed and quiet mind, this place is a perfect choice for you.
34. Salton Sea
The Sea of Salton is one of the best places to explore in California. It's sometimes called a salt lake, which means a sea full of salts. This place bursts the dams from more than 100 years ago. The lake is 235 feet below the ground, the largest lake in the United States. Whatever it is, not just the geographically wealthy, but also the beautifully wealthy.
The location gives off a melancholy vibe created by a ghost town. You're going to find a palm tree that looks fantastic. You'll also visit the amusing museum and the lake itself. You will visit this place with a lot of beautiful views.
33. Bowling Ball Beach
Bowling Ball Beach is a special place you can't see in California, or anywhere else in the world. The place is on Schooner Gulch State Beach. This position is surrounded by spherical rock, naturally. The balls are made of stone after years and years of erosion. The colors of the ball are awesome when the sun shines on it.
You will see the full glory of this ball during the low tide, and you only need a short walk to get there. But you need to be careful, because sometimes the stones are falling. Overall, it's a fantastic view and it's an adventure experience.
32. Dana Point Harbor
Dana Point Harbor is one of the easiest and most enticing tourist spots to watch. It's a perfect place to eat tasty food while you're enjoying the beach. The place is relaxing when you enjoy the view with your beloved one. On the other side, you can start watching, fishing, shopping, or a lot of great dining choices.
What's next, you may also find some other spot to enjoy city life. In a word, you can get it all out of this place. There are a lot of things that keep you busy with a lot of fun and great food. So, you can take a trip with your family and friends to this place.
31. Big Sur
If I don't say anything to you in this place, the content may be incomplete. Big Sur is always a favorite place for travelers. The spot extends over 90 miles, and some of the houses have a delightful style. Here, you're going to find a few places to get great fun. Big Sur has jagged hills, an iconic cobalt, and highly photogenic bridges that give you a beautiful view and an eye-catching picture.
Of course, Big Sur has a beautiful beach, such as Pfeiffer, which comes with full purple sand left behind by the Garnet Erosion. There are a number of famous spots in this area. So, you might be left. You're full of the day loving this beautiful place to visit.
30. Rainbow Falls
If you're a nature lover, you can't avoid this beautiful place. Rainbow Falls is a wonderful location in California. It's located in the U.S. nation of Madera. The waterfall is 101 feet high. This unit's rainbow name is named because you can see the rainbow at the right time on this spot. The rainbow looks amazing when it comes to water.
It's about a 3-mile hiking and camping trip to its beautiful location and on the way. Overall, you can enjoy the forest, wildlife and lower waterfalls. Don't miss a visit to the San Joaquin River for an unforgettable experience.
29. Big Bear Lake
This place in Big Bear Lake provides some of the finest camping opportunities in California. You will camp with your beloved family and friends. It's set in the mountains of San Bernardino. This place attracts tourists and provides calm, peach and relaxing weather. So, if you're bored with your life in the city, you can visit this place for a peach of your mind.
If you don't want to appreciate the charm of camping torques, you can appreciate the shore of the lake. The wind of this place is clean and pleasant, so you can have a special feeling when you enter this place.
28. Los Angle Museum of Art
This spot is one of my little options about the 44 best places to visit in California. Don't judge the scale of it. If you don't frequent it, you're going to miss it a lot. The spot offers a lot of fun and relaxation, including a prolific and comprehensive collection of art. You're going to look at the diversity of cultures in the USA. So, you can visit a place with an educational intent.
The museum, of course, used Urban Illumination, which is the art of this museum. The museum is located in 5905 Wilshire Blvd Los Angel, CA 90036, USA. Don't forget to go with your children and family.
27. Fern Canyon
The spot of Fern Canyon is a stunning endless symbol that makes the spot one of the canyons in California. The wall of this spot comes with a 50-feet coat of lush green fun. You feel like a glimpse of the Jurassic Park. The place is always nice, so you can have a wonderful feeling with this venue. Some of the ferns in this place are ancient, and visitors can treat 7 different trees easily.
You should know that some of the ferns are 300 million years old, which really looks gorgeous. So, if you want to visit a place in California, you're not expected to miss this place at any cost.
26. Lava Beds National Monuments
Let's introduce the next beautiful place in California. The Lava Beds consist of up to 700 caves of 25 tubes, making just the lava that draws a lot of visitors. Whatever you can crawl through with their awe venue. Most of the visitors come to the information center for their research on how these lava tubes were formed. In addition, research center is also a lovely place to visit.
Whatever you can find, you can find various bats or check out Mushpot Cave. Because of protection, you need to visit this place carefully. While it's not a very famous place like the one above, it's capable of offering a great view for its tourists.
25. Griffith Park
Suppose you think you're going to be the best place to visit in California, thanks to Griffith Park, because of the great location. It was built in 1896, covering 4300 acres, making it the tourist 's favorite location. This is California's second-largest tourist spot. It's only offering its tourists a green view, which looks amazing.
There is also a zoo, a botanical garden, a museum, a theatre, and a view of the evergreen. So, you can camp with your family and friends on this spot. The position of this place is Dr. Crystal Springs, Los Angeles.
24. Hearst Castle
If you're looking for a spot that comes with an elegant, opulent, and graceful attraction that's one of the greatest places for a peach of mind, you're not going to miss this spot at any cost — the William Randolph built-in spot. The interior of this place looks gorgeous, and you will enjoy it a lot. The building has 165 rooms and is located on 127 acres of land.
Foreign tourists will discover the swimming pool, walkways, parks, and some other enjoyment. The spot is suitable for a family trip, particularly for children. So, looking for a variety of cultures, you can definitely visit this region without any debate.
23. Huntington Garden
The owner of the Huntington Garden is Henry Huntington. It's a large space landscape that one of California's best locations in the shorts of a tourist looks great fun. You're going to get a variety of innumerable sporting spaces for great pleasure. On the other hand, for a lover of history, this place is awesome for them.
The place is in the Library, where the American and European books are open, which gives you an overview of the previous books. So, if you want to visit this location, you need to go to Oxford RD 1151, San Marino, CA 91108, USA.
22. Carlsbad Ranch
Well, this amazing place just for the bottom flower. You should know that this is one of the busiest places in California. It draws a lot of visitors. Region of 50 acres, the flower is sparkling with the breeze, which is mad of mind. If you want to see the best view of the flower, you need to go in the spring season — the best time to come here between early and early May of that time.
On the other side, you can have lunch here with a lovely smell. Much of the city is regarded as a romantic place. Whatever the venue, 5704 Paseo Del Norte is located in the USA. So, if you're going to visit a place in California, you're not expected to miss this wonderful place.
21. Cabrillo National Monument
Well, this is another top-visited and beautiful place in California that you can't miss. The place has a beautiful pool that you can see from the venue. You can take a short walk with this view if you like. But it really hurts when the sun heats up in the center of the sky. The secret sea cave lurks closed the public, however, because it was unsafe.
A lot of people make it their destination while they're biking and hiking. So, you can visit the place without any problems, too, for great fun. The location of this spot is 1800 Cabrillo Memorial Dr., San Diego, USA.
20. Sturtevant falls
If you're interested in sightseeing, you can certainly pick this spot to satisfy your desire — the spot in the Angel Forest, the Big Santa Anita Canyon. The measurement of this waterfall is 50 feet in height. Water is magic, and you can see various water colors and shapes. With sunshine, the color of the water changes, which attracts a lot of visitors.
Whatever Sturtevant lands, they look amazing and give you a nice feeling of hassle-free enjoyment. The colors of the water are playing against the ripples. Don't miss a spot if you're planning a trip to California.
19. Natural Bridges
Natural Bridges are technically called karsts, and the position is due to water erosion. It's one of the most fantastic and charming locations in California. It's situated in the ruins of Coyote Creek. You'll enjoy this stunning view like an illuminated cave — some of the trees that come with a stunning evergreen look that attracts a lot of visitors.
You can explore the waterproof clothing area. Note, you need to fit a breathable cloth so that you can take a full view without concentrating anywhere.
18. Bumpass Hill
Bumpass Hill is one of the most popular attractions to visit in the hills. Is geothermal location Let Volcanic National Park. You can call this park a peaceful park, too. It's a tiny room, and you can easily get explorer into its past, scenery, and strange value. The sulfur of this place could cause a bit of smell in the location.
However, you need to make sure that you can expose yourself to hot weather. The hill is too hot, and the temperature is too high. You're going to get this Sierra Nevada mountain range spot. So, don't miss this place when you're trying to go to California.
17. Antelope valley poppy Reverse
If you don't see that this official flower is a poppie, undoubtedly your trip has never been completed. You've got to visit this place because of a peach of your mind. Poppy is fully grown in bright orange in the wildflower season, which looks really appealing and has a fantastic view. If you want to test this awesome view, you need to go to the right time in March or May.
On the other hand, the place is never crowded, so you and your loved one can enjoy this place without any trouble. The location of this place is 15101 Lancaster RD. So, don't miss this wonderful place to visit in California.
16. Alamere Falls
You can see so many falls in your life, but it's a waterfall that comes back in California. The waterfalls linked to the sea, which made this place famous and attracted a lot of tourists. It's a long walk to the base of the waterfall. But you need a 10-mile round-up to look at this awesome scenery. But you should not miss the beauty of this natural waterfall in the back.
The Bass Lake helps you to do some swinging rope play. You're also going to take a sunbath at this venue. But you shouldn't be able to camp and go on a weekend trip because of the heat.
15. Joshua Tree National Park
We're going to skip to another top-rated and most amazing spot in California. In my experience, the trees inhabit the region that named the Joshua tree. But on a hot summer day, it's getting too hot and it's almost difficult to drive. If you love climbing, here you'll get a lot of advantages including a 5000-foot view of all the keys.
If you're not in love with the challenge of climbing, you will certainly enjoy the sight of the trees with their thick or rough trunks with their heads over the Cholla of the trees. It is not ideal for the visit of the old and the baby. If you're a young man, this beautiful place in California is probably right for you.
14. Thousand Island Lake
Thousand Island is so popular in California, but it's still hard to visit. It's based in the Sierra Nevada. The lake comes with a different island, which means a tiny island, which is very delightful. People are visiting here to look like the most beautiful water and sunniest pool. It also comes with snow, a waterfall, and some other spot, which is really lovely and looks fantastic.
What's next? Take a challenge to go to this place and enjoy yourself. The lake is so pretty on its own. Your trip to California, and don't go to this place, it's tough enough. So, it would be best if you were to visit this wonderful place to look like a special view.
13. Sonoma valley
Sonoma Valley is a region less crowded than Napa Valley. I've ranked 13 of the 44 best places to visit in California. Sonoma Valley is a perfect alternative to California, offering all the wonders of wine with a smaller budget. On the other hand, the place offers you a stunning coastline that is very pleasant. Although it's not famous like the Napa Valley, I think it can still give you great pleasure in its beauty.
Overall, if you're a wine lover, you're sure to be able to explore the countryside. Besides, it doesn't matter if you don't like wine, because natural beauty gives you a peach of mind. So, you're not going to miss the place to visit.
12. Sequoia National Park
Sequoia National Park is often known as the Sequoia Tree Park. The trees are awesome to look at, and the essence of beauty loves it. It's one of the largest single-stem trees on earth, not just in California. If you're a giant tree lover, this area is definitely a perfect choice for you. You'll see some gorgeous scenery while you're in the park.
Most people visit this place for hiking trails and take in the sight of the rare flora and fauna. You will certainly visit this place with your California trips to enjoy natural beauty with stunning trees or some other gorgeous view.
11. The Giant Rock
You may find a place with no fun, but you may be glad to hear that the place will provide you with a refreshing mind and some educational material. The Giant Rock stretches 5,800 SQ FT and the stone is fully free-standing. The stones are very big, and some of them are small in scale. They look amazing to watch with every perspective.
So, if you want to visit the natural area of California, you can certainly visit this location. The rearview this location – you can't find anywhere else in California. A lot of people come here and enjoy it a lot. I hope you enjoy this place a lot.
10. Golden Gate Bridge
It's not just a bridge. It's one of the best tourist spots in California that comes with breathtaking splendor and grandeur. About 40 cars have crossed the road in a year. If you love to see a new engineer or a terrific innovation, Golden Gate Bridge is a perfect place for you. Most of the tourists come here and take a lot of photos, because the image of this place looks like paradise.
So, don't forget to take your camera with you to take some awesome pictures. Bridge's Lake is also amazing to look at, which gives you cool and relaxing weather. You can also get some fantastic views from the Golden Gate Bridge.
09. Yosemite National Park
All over the USA, not just California, it's one of the best places to visit. This place is situated in the mountains of the Sierra Nevada. It especially attracts the tour, which included five amazing views such as a 1,000-foot waterfall, imposing some sequoia trees, and also includes 13-room campgrounds that help you enjoy with your family and friends.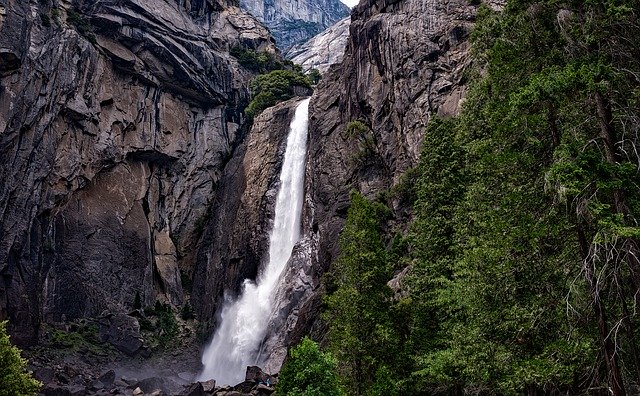 If you're a natural beauty lover, you can enjoy this place, such a breathtaking, scenic place, and even the most stunning Vernal and Nevada in the distance. Essentially, this location is ideal for adults and teenagers. So, I'm not recommending it to children and elderly people.
08. Lake Tahoe
The lake is always the essence of beauty and draws people to its natural beauty. However, Lake Tahoe is a location in the Sierra Nevada mountains. It's a fresh-water Alpine lake that comes with exceptional clarity. You will do a lot of walking on this lake and do the most spectacular view.
Lake Tahoe is perfect for taking a fresh breath. So, a lot of people are coming here to take a fresh and relaxed breath. This location is perfect for all ages of people. The water is flowing and attracts the tourist with enchantment because of its blue water scenery.
07. Santa Barbara
You should know that Santa Barbara is a small coastal town that offers relaxation, Mediterranean-style vibes, and a variety of lovely beaches to enjoy great fun. Butterfly Beach is one of the best beaches on this place. I've visited this place, and I think it's a great beach to have fun with the sun.
It's great fun with the heat, and you can go hiking and walk around. However, this beach also offers a view of rustic villas and some of the top-rated hiking items on the market.
06. Santa Catalina
If you're looking for a spot in California to go on a weekend trip, this spot, Santa Catalina, is definitely one of the best choices for you. Visitors can reach the island via one of the three ports and also take a short ferry trip with hot, warm weather. People are also taking on a challenge of a lot of events for a full day of wonderful enjoyment.
Here, you will find an incredible spot, Lover's Stage, often recognized as a romantic spot. So, with your beloved, you can enjoy this place. On the other hand, enjoy a jeep tour and a golf map that is as relaxed and enjoyable as possible. Finally, this place offers you a range of water sports, such as swimming, kayaking and even hiking.
05. Napa Valley
If you're a hill lover and want to plan a hill ride, this spot, Napa Valley, is great fun for you. It looks like the old architecture, the rolling hills, and, of course, the lovely vineyards that give you a peach of mind. There are 400 wineries in the area, which began to be grown in the 18th century.
Wow! Wow! Wow! One of the most fascinating stuff people want a balloon ride-sharing offer excellent sightseeing tours from above or enjoy the oldest town of Napa Valley. I think this place is an apt overall age for awesome fun or other educational location view.
04. Santa Cruz
03. Palm Springs
Palm Springs is a summer resort surrounded by four separate mountain ranges in the Sonoran Desert. Seasonally, Coachella becomes the epocenter of coolness and presents the dazzling Christmas light show Roboights. Special events are the design-oriented Moternisme Week.
02. Sequoia and Kings Canyon National Parks
The Sequoia National Park and Kings Canyon National Park in the south of Sierra Nevada are recognized for their urban sequoia plants and thousands of unbroken nature paths. Kings Canyon is separated into two main areas: General Grant Grove and Cedar Grove / Zumwalt Meadows. General Grant Grove contains Kings Canyon's second-largest sequoia species, such as General Grant. All visitors must be independent and eager to experience the parks and woods. Bring cookies, drinks and sanitary items, including hand sanitizer.
01. Los Angeles
Los Angeles (LA) is the second largest city in California. LA is famous for meeting Hollywood celebrities when you're walking on the street. Los Angeles comes from the Spanish word 'El Pueblo de la Reyna de los Angeles,' which means 'the town of the Queen of Angels. There are a lot of beautiful places in Los Angeles where you can spend your entire day. In here, you can do a lot of attractive things. Griffith Park, Natural History Museum, Original Farmers Market are some of the most desirable tourist attractions in Los Angeles. We're writing another article about the best 25 to 30 tourist attractions in Los Angeles.
Most Common Questions about California:
What to Bring to California :

A Cute Jumpsuit
Why would you plan to go to California?
California has a lot of places around 200 to visit. Ah, if you're a wine lover, you need to visit the Napa Valley and Sonoma Valley. On the other side, you need to visit Yosemite National Park and Burney Fall to look out for a waterfall without any uncertainty.
Before you camp, hike or visit a spot, you need to consider the age and the weather that are most important.
What would be the best time to visit Sothern California :

Summertime

Which are the best places for short trips in California :

Sequoia and Kings Canyon National Parks

What is the best beach to visit in California : Bowling Ball Beach
To Sum Up,
After reviewing the 44 best places to visit in California, I hope you'll find the best place to visit in California. Lots of people come to California to visit the above listed places for food, camping , hiking, and lots of weekend activities.
If you're either upset or uncertain about the place that's perfect for you, let me know the comment box below to help you find the place that's right for you.